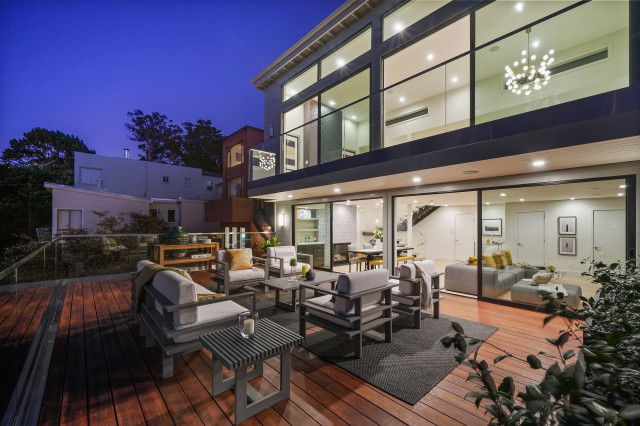 Raise the Roof!
For our client, who had previous experience working with architects, we enlarged, completely gutted and remodeled this Twin Peaks diamond in the rough. The top floor had a rear-sloping ceiling that cut off the amazing view, so our first task was to raise the roof so the great room had a uniformly high ceiling. Clerestory windows bring in light from all directions. In addition, we removed walls, combined rooms, and installed floor-to-ceiling, wall-to-wall sliding doors in sleek black aluminum at each floor to create generous rooms with expansive views. At the basement, we created a full-floor art studio flooded with light and with an en-suite bathroom for the artist-owner. New exterior decks, stairs and glass railings create outdoor living opportunities at three of the four levels. We designed modern open-riser stairs with glass railings to replace the existing cramped interior stairs. The kitchen features a 16 foot long island which also functions as a dining table. We designed a custom wall-to-wall bookcase in the family room as well as three sleek tiled fireplaces with integrated bookcases. The bathrooms are entirely new and feature floating vanities and a modern freestanding tub in the master. Clean detailing and luxurious, contemporary finishes complete the look.
Idee per una grande terrazza contemporanea al primo piano con nessuna copertura e parapetto in vetro — 
Houzz
Argomenti correlati alla foto
I commenti degli utenti:

Brianna Maciejewski lo ha aggiunto a Brianna's Ideas
9 febbraio 2021
I love the large glass on the lower level with the view and connecting to outdoor space. Are they doors or windows? I can't tell.