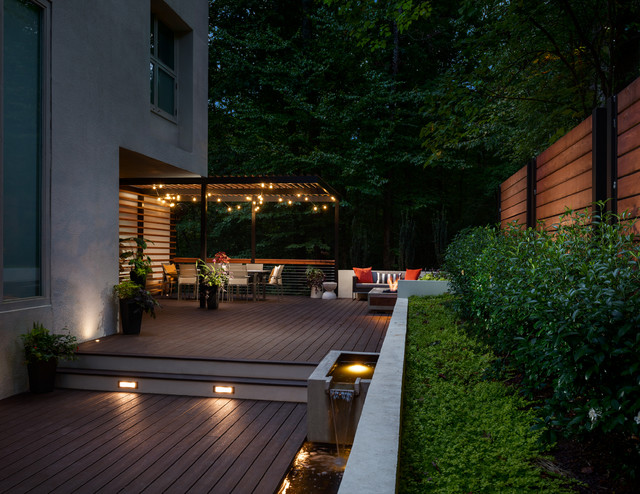 Contemporary Backyard Retreat
Our clients came to us looking for a complete renovation of the rear facade of their Atlanta home and attached deck. Their wish list included a contemporary, functional design that would create spaces for various uses, both for small family gatherings and entertaining larger parties. The result is a stunning, custom outdoor living area with a wealth of options for relaxing and socializing. The upper deck is the central dining and entertaining area and includes a custom cantilevered aluminum pergola, a covered grill and prep area, and gorgeous concrete fire table and floating wooden bench. As you step down to the lower deck you are welcomed by the peaceful sound of cascading water from the custom concrete water feature creating a Zen atmosphere for the entire deck. This feature is a gorgeous focal point from inside the house as well. To define the different outdoor rooms and also provide passive seating opportunities, the steps have built-in recessed lighting so that the space is well-defined in the evening as well as the daytime. The landscaping is modern and low-maintenance and is composed of tight, linear plantings that feature complimentary hues of green and provides privacy from neighboring properties.
Foto di una grande terrazza design dietro casa e a piano terra con un focolare, una pergola e parapetto in metallo — 
Houzz
Argomenti correlati alla foto
I commenti degli utenti:
nancyemorin lo ha aggiunto a nancyemorin's ideas
24 ottobre 2022
In addition to the stepped-in retaining walls, Rogers broke up the deck with different levels. Seen here is the portion of the deck that is entered by people approaching it from the side yard. The sound of water cascading from a new water feature draws them around the corner to this area. This smaller area is also meant to be an intimate lounge (it was unfurnished during the photo shoot). The lighting scheme also was important to the homeowners. Integrated lights make the steps safer at night.