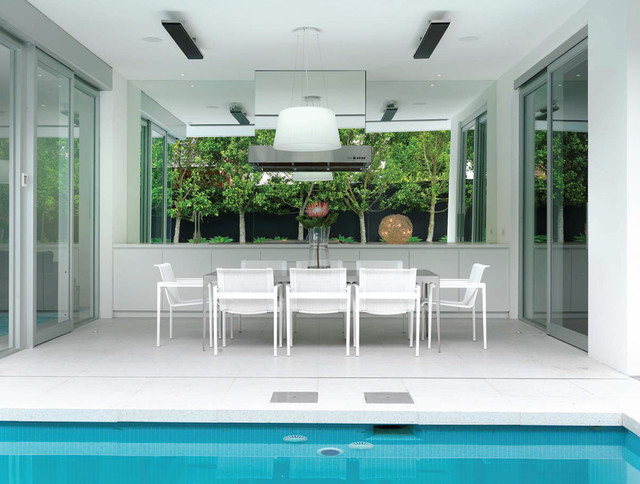 Pool House
The design of this new four bedroom house provides a strong contemporary presence but also maintains a very private face to the street. Composed of simple elements, the ground floor is largely glass overhung by the first floor balconies framed in white, creating deep shadows at both levels. Adjustable white louvred screens to all balconies control sunlight and privacy, while maintaining the connection between inside and out.
Following a minimalist aesthetic, the building is almost totally white internally and externally, with small splashes of colour provided by furnishings and the vivid aqua pool that is visible from most rooms.
Parallel with the central hallway is the stair, seemingly cut from a block of white terrazzo. It glows with light from above, illuminating the sheets of glass suspended from the ceiling forming the balustrade.
The view from the central kitchen and family living areas is dominated by the pool. The long north facing terrace and garden become part of the house, multiplying the light within these rooms. The first floor contains bedrooms and a living area, all with direct access to balconies to the front or side overlooking the pool, which also provide shade for the ground floor windows.

Immagine di un grande patio o portico minimalista con un tetto a sbalzo — 
Houzz
Argomenti correlati alla foto
I commenti degli utenti:
bmattei lo ha aggiunto a Tanya's Mattei Landscape Idea Book
30 marzo 2020
Nice white hardscape. Our outdoor living room/dining room will have a bank of cabinets at one end with BBQ, sink, maybe a small refrigerator. I also want to store my art supplies out there and do art at dining table. Sides will all be open...green hedge visible behind this structure. Trying to figure out what lower plantings to put just in front of the hedge that you would see from dining table. This photo gives sense of white dining area with green visible beyond (but ours will be open all way to floor)
bmattei lo ha aggiunto a Marla Ideabook for Mattei landscaping
13 marzo 2020
can kind of picture what areas outside living room and dining room might look like...the plantings and picture the fence as a hedge. views over kitchen counter and through fireplace and from dining table.