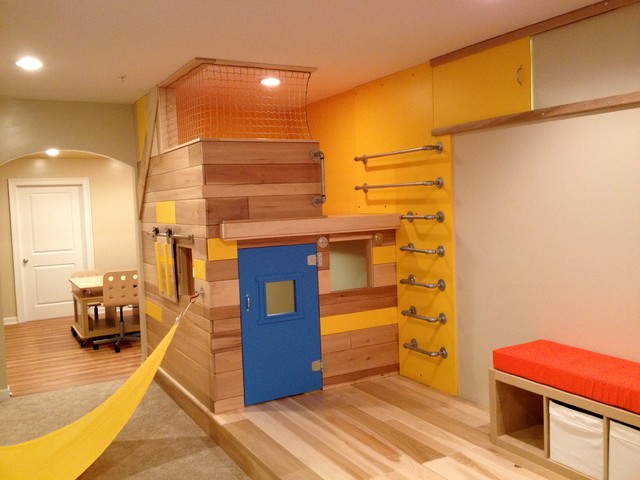 Playroom (multi-use)
THEME The overall theme for this
space is a functional, family friendly
escape where time spent together
or alone is comfortable and exciting.
The integration of the work space,
clubhouse and family entertainment
area creates an environment that
brings the whole family together in
projects, recreation and relaxation.
Each element works harmoniously
together blending the creative and
functional into the perfect family
escape.

FOCUS The two-story clubhouse is
the focal point of the large space and
physically separates but blends the two
distinct rooms. The clubhouse has an
upper level loft overlooking the main
room and a lower enclosed space with
windows looking out into the playroom
and work room. There was a financial
focus for this creative space and the
use of many Ikea products helped to
keep the fabrication and build costs
within budget.

STORAGE Storage is abundant for this
family on the walls, in the cabinets and
even in the floor. The massive built in
cabinets are home to the television
and gaming consoles and the custom
designed peg walls create additional
shelving that can be continually
transformed to accommodate new or
shifting passions. The raised floor is
the base for the clubhouse and fort
but when pulled up, the flush mounted
floor pieces reveal large open storage
perfect for toys to be brushed into
hiding.

GROWTH The entire space is designed
to be fun and you never outgrow
fun. The clubhouse and loft will be a
focus for these boys for years and the
media area will draw the family to
this space whether they are watching
their favorite animated movie or
newest adventure series. The adjoining
workroom provides the perfect arts and
crafts area with moving storage table
and will be well suited for homework
and science fair projects.

SAFETY The desire to climb, jump,
run, and swing is encouraged in this
great space and the attention to detail
ensures that they will be safe. From
the strong cargo netting enclosing
the upper level of the clubhouse to
the added care taken with the lumber
to ensure a soft clean feel without
splintering and the extra wide borders
in the flush mounted floor storage, this
space is designed to provide this family
with a fun and safe space.
Esempio di una grande cameretta per bambini da 4 a 10 anni eclettica con pareti beige e pavimento in legno massello medio — 
Houzz
Argomenti correlati alla foto
I commenti degli utenti: