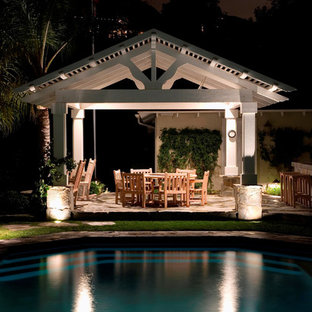 Take in a delicious dinner while entertaining under the stars in this outdoor patio space. Complete with space heater, fire pit, bbq and seating for 12.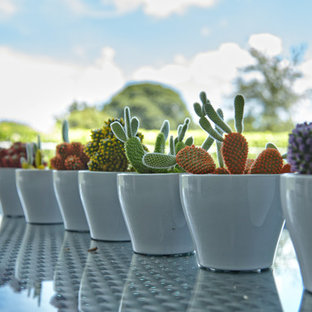 Home and Living Examiner said: Modern renovation by J Design Group is stunning J Design Group, an expert in luxury design, completed a new project in Tamarac, Florida, which involved the total interior remodeling of this home. We were so intrigued by the photos and design ideas, we decided to talk to J Design Group CEO, Jennifer Corredor. The concept behind the redesign was inspired by the client's relocation. Andrea Campbell: How did you get a feel for the client's aesthetic? Jennifer Corredor: After a one-on-one with the Client, I could get a real sense of her aesthetics for this home and the type of furnishings she gravitated towards. The redesign included a total interior remodeling of the client's home. All of this was done with the client's personal style in mind. Certain walls were removed to maximize the openness of the area and bathrooms were also demolished and reconstructed for a new layout. This included removing the old tiles and replacing with white 40" x 40" glass tiles for the main open living area which optimized the space immediately. Bedroom floors were dressed with exotic African Teak to introduce warmth to the space. We also removed and replaced the outdated kitchen with a modern look and streamlined, state-of-the-art kitchen appliances. To introduce some color for the backsplash and match the client's taste, we introduced a splash of plum-colored glass behind the stove and kept the remaining backsplash with frosted glass. We then removed all the doors throughout the home and replaced with custom-made doors which were a combination of cherry with insert of frosted glass and stainless steel handles. All interior lights were replaced with LED bulbs and stainless steel trims, including unique pendant and wall sconces that were also added. All bathrooms were totally gutted and remodeled with unique wall finishes, including an entire marble slab utilized in the master bath shower stall. Once renovation of the home was completed, we proceeded to install beautiful high-end modern furniture for interior and exterior, from lines such as B&B Italia to complete a masterful design. One-of-a-kind and limited edition accessories and vases complimented the look with original art, most of which was custom-made for the home. To complete the home, state of the art A/V system was introduced. The idea is always to enhance and amplify spaces in a way that is unique to the client and exceeds his/her expectations. To see complete J Design Group featured article, go to: http://www.examiner.com/article/modern-renovation-by-j-design-group-is-stunning Living Room, Dining room, Master Bedroom, Master Bathroom, Powder Bathroom, Miami Interior Designers, Miami Interior Designer, Interior Designers Miami, Interior Designer Miami, Modern Interior Designers, Modern Interior Designer, Modern interior decorators, Modern interior decorator, Miami, Contemporary Interior Designers, Contemporary Interior Designer, Interior design decorators, Interior design decorator, Interior Decoration and Design, Black Interior Designers, Black Interior Designer, Interior designer, Interior designers, Home interior designers, Home interior designer, Daniel Newcomb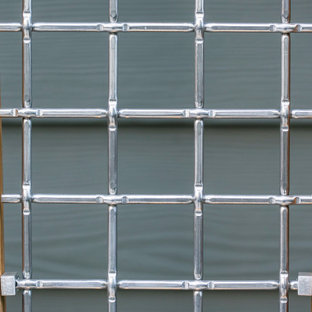 The Courtyard Oasis project encompasses what abarnai does best; remodeling a space with an emphasis on functional installation artwork. Our clients wanted a beautiful and tranquil outdoor space as a seamless extension of their indoor living space. They initially described the outdoor area as a drainage ditch, and to transform it into a Courtyard Oasis required detailed design work and creative collaboration. An open central patio, with custom trellises as a living focal point, was the starting point of the design to connect the indoor and outdoor spaces and allow the courtyard area to be divided into different zones -- for relaxing, entertaining and gardening. The abarnai team loved this project because they go to completely revamp the area and utilize a wide variety of design and building skills, including patio construction, custom trellis artwork, composite decking and stairs, a wood retaining wall, feature lighting systems, planting areas, and a sprinkler system.