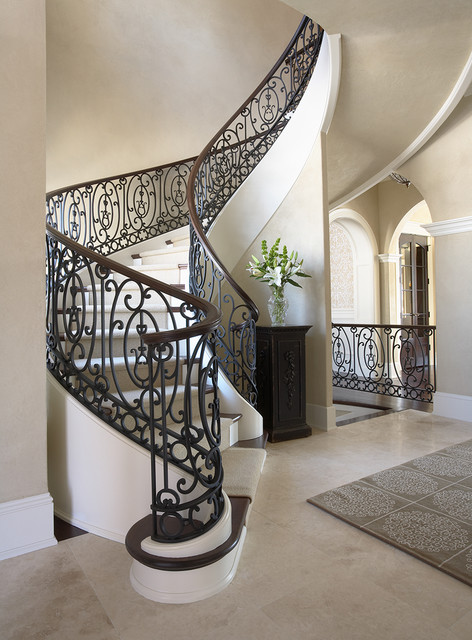 Merilane Avenue Residence 2 Staircase
2011 ASID Award Winning Design

This 10,000 square foot home was built for a family who prized entertaining and wine, and who wanted a home that would serve them for the rest of their lives. Our goal was to build and furnish a European-inspired home that feels like 'home,' accommodates parties with over one hundred guests, and suits the homeowners throughout their lives.

We used a variety of stones, millwork, wallpaper, and faux finishes to compliment the large spaces & natural light. We chose furnishings that emphasize clean lines and a traditional style. Throughout the furnishings, we opted for rich finishes & fabrics for a formal appeal. The homes antiqued chandeliers & light-fixtures, along with the repeating hues of red & navy offer a formal tradition.

Of the utmost importance was that we create spaces for the homeowners lifestyle: wine & art collecting, entertaining, fitness room & sauna. We placed fine art at sight-lines & points of interest throughout the home, and we create rooms dedicated to the homeowners other interests.

Interior Design & Furniture by Martha O'Hara Interiors
Build by Stonewood, LLC
Architecture by Eskuche Architecture
Photography by Susan Gilmore
Ispirazione per una scala classica — 
Houzz
Argomenti correlati alla foto
I commenti degli utenti:

asileiram lo ha aggiunto a Step Up
27 ottobre 2019
Note only how busy an entire visual space can be with excess movement in scrolled posts. Beautiful design and seemingly beautifully executed, but such a visual jewel as that pattern/movement gives texture to a space that would compete w any real decor. What then is left to do w the space?