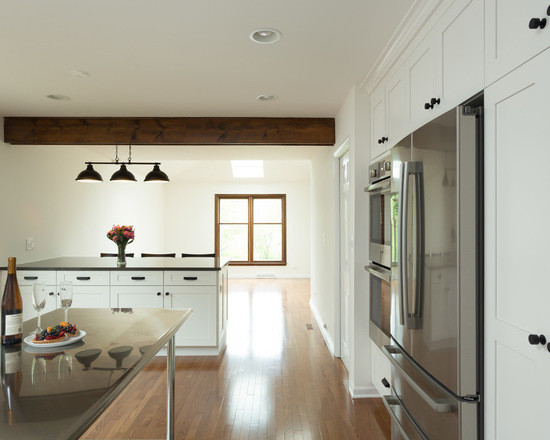 Kitchen Remodeling
We gave this large kitchen a completely new look! We brought the style up-to-date and added in some much needed counter space and storage. We loved the quirky charm of the original design, so we made to sure to keep it's unique style very much a part of the new design through the use of mixed materials. Artisanal hand-made floating shelves (made out of old barn wood) along with the exposed wooden beams create a soft but powerful statement -- warm and earthy but strikingly trendy. The rich woods from the floating shelves and height-adjustable pull-out pantry contrast beautifully with the glistening glass cabinets, which offer the perfect place to show off their stunning glassware.

By installing new countertops, cabinets, and a peninsula, we were able to drastically improve the amount of workspace. The peninsula offers a place to dine, work, or even use as a buffet - just the kind of functionality and versatility our clients were looking for.

The marble backsplash and stainless steel work table add a subtle touch of modernism, that blends extremely well with the more rustic elements. Also, the stainless steel table was the perfect solution for a make-shift island since this older kitchen did not have the typical width that is needed to add a built-in island (plus, it can easily be moved to fit the needs of the homeowners!).

Other features include a brand new exhaust fan, which wasn't included in the original design, and entire leveling of the new hardwood floors, which were previously sinking down almost a foot from one side of the space to the other.

Designed by Chi Renovation & Design who serve Chicago and it's surrounding suburbs, with an emphasis on the North Side and North Shore. You'll find their work from the Loop through Lincoln Park, Skokie, Wilmette, and all the way up to Lake Forest.
Idee per una cucina contemporanea di medie dimensioni con lavello sottopiano, ante in stile shaker, ante bianche, top in granito, paraspruzzi bianco, paraspruzzi in marmo, elettrodomestici in acciaio inossidabile e pavimento in legno massello medio — 
Houzz
Argomenti correlati alla foto