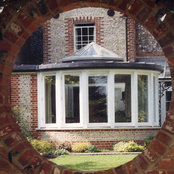 Dale Loth Architects
Ha commentato: No kerb appeal
You would need planning permission to render part of your house assuming none of it is currently rendered and you're in England. I would replace the inappropriate mock-period front door, but consider...
Ha commentato: Sofa or curtains first?
Ideally, you'd make all the material / colour choices before buying anything. Otherwise, my advice would always be to choose the item which comes in the narrowest range of colours / finishes which yo...
Ha commentato: mock Tudor frontage needs replacing,
Although I'm no fan of Stockbroker Tudor, I'd tend towards keeping the timber framing. The angled ground floor bays and the gable would challenge any attempt at modernisation. The windows are an imp...
Ha commentato: venting cooker extractor through chimney breast
Your question is far from straightforward and raises potential technical issues beyond whether the extractor can function reasonably with such a long, offset duct. Find out whether any of the holes y...
Ha commentato: Real wood v laminate worktop
Avoid fake wood. Even if you're taken by the look initially, areas of heavy wear or scratches give the lie to the deception.