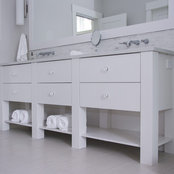 Arts Custom Woodcrafting Inc.
Progettazione di Cucine e Bagni
Ha commentato: what is the countertop? The name?
Hi, Sorry I'm not sure what the counter top or backsplash material names are on the project as the client ordered them. Thanks
Ha commentato: Distance between Vent Hood and Cabinets !
No it is not mandatory to keep a space between the hood fan and cabinets. Your range or cooktop will have clearences above and to the side that need to be kept.