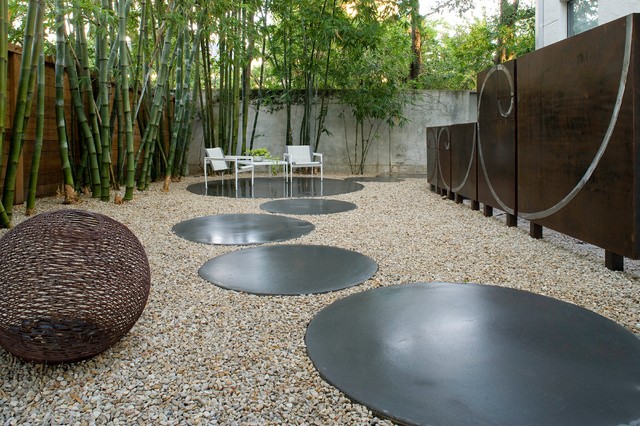 modern Landscape
A local Houston art collector hired us to create a low maintenance, sophisticated, contemporary landscape design. She wanted her property to compliment her eclectic taste in architecture, outdoor sculpture, and modern art. Her house was built with a minimalist approach to decoration, emphasizing right angles and windows instead of architectural keynotes. The west wing of the house was only one story, while the east wing was two-story. The windows in both wings were larger than usual, so that visitors could see her art collection from the home's exterior. Near one of the large rear windows, there was an abstract metal sculpture designed in the form of a spiral.

When she initially contacted us, the surrounding property had only a few trees and indigenous grass as vegetation. This was actually a good beginning point with us, because it allowed us to develop a contemporary landscape design that featured a very linear, crisp look supportive of the home and its contents. We began by planting a garden around the large contemporary sculpture near the window. Landscape designers planted horsetail reed under windows, along the sides of the home, and around the corners. This vegetation is very resilient and hardy, and requires little trimming, weeding, or mulching. This helped unite the diverse elements of sculpture, contemporary architecture, and landscape design into a more fluid harmony that preserved the proportions of each unique element, but eliminated any tendency for the elements to clash with one another.

We then added two stonework designs to the landscape surrounding the contemporary art collection and home. The first was a linear walkway we build from concrete pads purchased through a retail vendor as a cost-saving benefit to our client. We created this walkway to follow the perimeter of the home so that visitors could walk around the entire property and admire the outdoor sculptures and the collections of modern art visible through the windows. This was especially enjoyable at night, when the entire home was brightly lit from within.

To add a touch of tranquility and quite repose to the stark right angles of the home and surrounding contemporary landscape, we designed a special seating area toward the northwest corner of the property. We wanted to create a sense of contemplation in this area, so we departed from the linear and angular designs of the surrounding landscape and established a theme of circular geometry. We laid down gravel as ground cover, then placed large, circular pads arranged like giant stepping stones that led up to a stone patio filled with chairs. The shape of the granite pads and the contours of the graveled area further complimented the spirals and turns in the outdoor metal sculpture, and balanced the entire contemporary landscape design with proportional geometric forms of lines, angles, and curves.

This particular contemporary landscape design also has a sense of movement attached to it. All stonework leads to a destination of some sort. The linear pathway provides a guided tour around the home, garden, and modern art collection. The granite pathway stones create movement toward separate space where the entire experience of art, vegetation, and architecture can be viewed and experienced as a unity.

Contemporary landscaping designs like create form out of feeling by using basic geometric forms and variations of forms. Sometimes very stark forms are used to create a sense of absolutism or contrast. At other times, forms are blended, or even distorted to suggest a sense of complex emotion, or a sense of multi-dimensional reality. The exact nature of the design is always highly subjective, and developed on a case-by-case basis with the client.
Ispirazione per un campo sportivo esterno moderno in ombra di medie dimensioni e nel cortile laterale in primavera con pavimentazioni in cemento e scale — 
Houzz
Argomenti correlati alla foto
I commenti degli autori di Houzz:

Rosaria Di Prata lo ha aggiunto a 6 Giardini e 2 Salotti Sono Trasformati da Decorazioni in Ghiaia
27 maggio 2016
Ghiaia e arte Ricreare un ambiente minimal capace di valorizzare elementi artistici di pregio in un giardino richiede l'uso di materiali naturali capaci di fondersi con lo spazio esterno, in questo caso la ghiaia assolve perfettamente al suo ruolo. Qui pur non essendo la protagonista assoluta ha un ruolo di rilievo: è la base dell'intera pavimentazione, scelta in una colorazione con prevalenza di beige si accosta bene al verde circostante. Per creare un effetto scenografico che si contestualizasse nello spazio, sono state inserite grandi piattaforme rotonde in cemento che non solo creano un sentiero fino a una piacevole area relax ma valorizzano anche la ghiaia stessa.