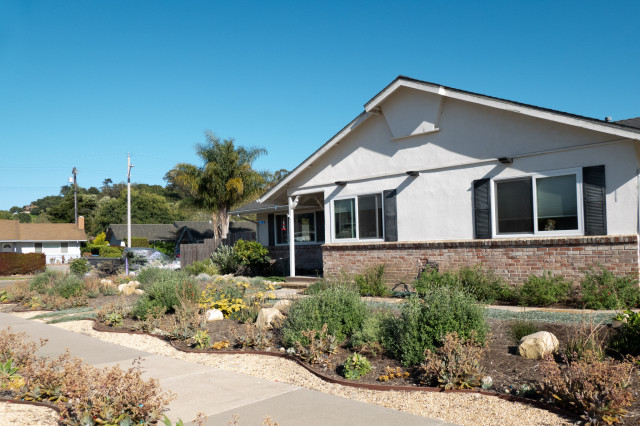 Low Water Love
Tiered of the looking out at a shabby brown lawn in their front yard and unwilling to use the water to keep it green these homeowners decided to go for something different. The wife in this household worked from home and was motivated to have a better view from her home office. As an enthusiastic bird watcher, I wanted to give her a view that included happy birds fluttering about. The husband was annoyed by the fact that some of the neighbors allowed their dogs to use this corner lot a toilet without having the curtesy of cleaning up after them.

My job was to create a low water landscape (also known as xeriscape) that attracted birds, bees and butterflies but kept the dogs off. We started with directing down spouts in to catch basins called infiltration swales. These swales capture water storing it in the soil where it can be accessed by plants months after the rains have stopped. Then we integrated primarily California native plants and succulents into the design. Special attention was payed to the water needs of the plants and the ideal growing conditions for each species so that the combination of earthworks and plant choice and placement this landscape can get by with zero supplemental irrigation after the period of establishment this landscape. By incorporating flowering California native plants, native birds and insects flocked to the site in a neighborhood otherwise dominated by lifeless landscapes. By surrounding the garden with decomposed granite and succulents we created a space that was unpleasant and unappealing for dogs to relive themselves while remaining appealing to more human sensibilities.

Today this property sits on the corner in a suburban neighborhood of Goleta, California. Hopefully serving as inspiration to take out lawns and build beautiful gardens that work to integrate the man made landscape with the natural ecosystem in which it is built.


Esempio di un giardino xeriscape moderno esposto in pieno sole di medie dimensioni e davanti casa con graniglia di granito — 
Houzz
Argomenti correlati alla foto
I commenti degli utenti: