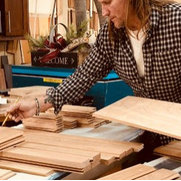 Taylor Made Cabinets, Leominster MA
https://www.houzz.it/pro/taylor-made_cabinets_leominster_ma/ copiata negli appunti
4 Premi Houzz
4 Badge Houzz
Costo medio di un progetto:
15.000 USD - 50.000 USD
The Price Range Above Includes Design, Manufacturing, Tax & Installation of our own brand of Cabinets Made Fully Custom right in our Leominster, MA workshop. We do our own installations and are a Small, Personalized, Owner-Operated business. Formaldehyde Free Too!
Categoria:
Ristrutturazione di Cucine e Bagni
Ristrutturazione di Cucine e Bagni in Italia