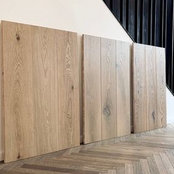 Moncer Specialty Flooring
Vendita Pavimenti e Installazione
Ha commentato: Are you available in Michigan USA
Hi Samantha, We don't actually work with retailers in the US, but do many jobs across North America. We would love the opportunity to have you speak with one of our sales reps. Please do not hesitate...
Ha commentato: White oak floor http://houzz.com/photos/3898509
Thanks very much for your question! Our products are designed to never have to be resanded, as the impregnating 100% natural oil finish is hard wearing and very easy to touch up should damages occur....
Ha commentato: Floors and stair case
The stair tread and risers were done using the same material as the flooring. The posts and handrails were done in a complimentary finish using solid wood.
Anchor + Hill Interiors
ha scritto una recensione
Moncer Specialty Flooring
8 maggio 2019