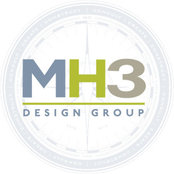 MH3 Design Group
Architetti e Designer del Paesaggio
Ha commentato: What are the bright pink ground cover flowers.
These are Fireglow Sedum. They get about 4-5" tall and each plant spreads about 18" wide. Another very similar variety is Dragon's Blood Sedum. They start flowering in early June and will...
Ha commentato: Where is the house number from ?
The house numbers for this project were custom fabricated at our metal shop. They are very easy to commission to have made. We mounted them on a Fond Du Lac outcropping stone. I could help you make...
Ha commentato: What product/colors are on the exterior of the home?
I was commissioned to work on this project to design and install the landscape, pool, and stamped concrete surfaces so I do not know the answers to your questions. But, the builder was Bruce Lenzen (...
Ha commentato: What type of pool coping was used? Thank you!
Thank you for your question. The pool coping we used was Belgard, Mega Bergerac (9.5" x 14.25" x 3.125"). We combined 2 different blends for the color: Ardennes Grey and Lannon. This was a vinyl po...
Ha commentato: How did you do the renderings?
Peter, I am always blown away by your renderings...I'm looking at this and wondering if you can render moving me into the space? Love the work and I can't wait to see more!
MH3 Design Group
ha aggiornato il suo profilo
2 giorni fa