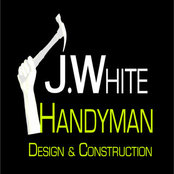 J. White Handyman, Design & Construction
Ha commentato: Need help choosing paint color
This is a fabulous door style! It deserves a color that says WOW! I vote for a very rich turquoise, like Behr's Deep Blue Sea, #540-D7.
Ha commentato: Help make my cabin kitchen more cabiny
Today's refacing techniques are much better than they used to be. It is a viable option and more affordable than replacing cabinets, counters and fixtures. There are examples here on Houzz, like thi...
Ha commentato: Sad exterior...how can I make it stand out more?
I highly recommend looking at walpolewoodworkers.com for some excellent ideas on decorative elements such as window trellises, window boxes and planters. Also, a nice paint scheme idea would be to ap...