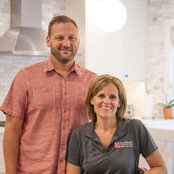 Kaufman Construction Design and Build
Ha commentato: stair wood species
It is quartersawn red oak. I can't remember the stain color, but it is just slightly darker than natural oil based polyurethane.
Ha commentato: Pitch of roof
The easy answer is that you can use any pitch. Typically it gets more technically difficult as the pitch gets lower. 3/12 pitch is the lowest pitch that can have standard asphalt shingles and even th...
Ha commentato: Floor?
It is a traditional finish-in-place oak floor. You need a contractor who knows the proper procedures and products to use in gluing it to a concrete floor - moisture has to be controlled.
Kaufman Construction Design and Build
ha aggiunto 3 foto all'Ideabook:
Elliot
16 gennaio 2019