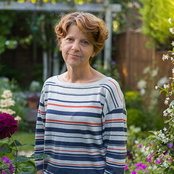 Janet Bligh Garden Designs
Architetti e Designer del Paesaggio
Ha commentato: Paving
We kept the client's existing York stone but relaid it to fit the new design, with smaller neater mortar joints in a more sympathetic colour than it had previously. I also broke up the paving with br...
Ha commentato: Purple plant?
Yes they are Salvia Caradonna which have lovely black stems and deep purple flowers. They need to be in a sunny position with well-drained soil.
Ha commentato: Hi
Hi. I'm sorry I can't tell you that as it was the client's sculpture and it was my job just to include it in the scheme somewhere near the house where it could be seen (and it's uplit at night too!).
Ha commentato: Flowers
Hi Kristine, Forest Eyes is correct! The Cistus is 'Jenkyn Place' and there is also Nepeta faasenii, Sisyrinchium striatum and white Alliums in the border too.