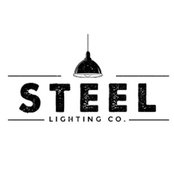 Steel Lighting Co
Ha commentato: Placement/Color Recommendation
Yes, this light is also commonly used next to a garage door on either side. I would stick with the shorter 16" gooseneck like shown here. For color, I would choose white or galvanized to contrast wi...
Ha commentato: Additional rod length
Hi, Thank you for reaching out. The down rods cannot be attached to one another. We can make you a custom length rod but you would need to tell us the exact length. You may also require a new sock...
Ha commentato: Will the light mount to a standard ceiling box?
Hi, Our fixture comes with a 4" round mounting plate. You can install our mounting plate right on top of the box that you currently have. You may only have (2) screw holes in your existing box...