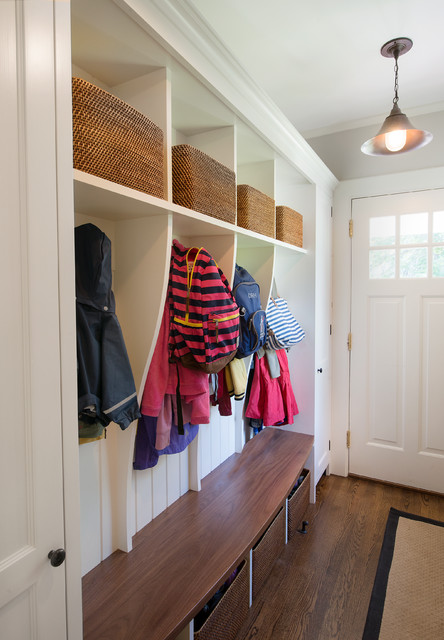 West Hartford Residence Addition and Renovation
Photo by Jody Dole

This was a fast-track design-build project which began design in July and ended construction before Christmas. The scope included additions and first and second floor renovations. The house is an early 1900's gambrel style with painted wood shingle siding and mission style detailing. On the first and second floor we removed previously constructed awkward additions and extended the gambrel style roof to make room for a large kitchen on the first floor and a master bathroom and bedroom on the second floor. We also added two new dormers to match the existing dormers to bring light into the master shower and new bedroom. We refinished the wood floors, repainted all of the walls and trim, added new vintage style light fixtures, and created a new half and kid's bath. We also added new millwork features to continue the existing level of detail and texture within the house. A wrap-around covered porch with a corner trellis was also added, which provides a perfect opportunity to enjoy the back-yard. A wonderful project!

Esempio di un piccolo ingresso con anticamera country con pareti bianche, pavimento in legno massello medio, una porta singola e una porta bianca — 
Houzz
Argomenti correlati alla foto
I commenti degli utenti:
Marie Johns lo ha aggiunto a Mudroom
20 aprile 2021
shoe baskets/half coat dividers/baskets above
1kmast lo ha aggiunto a PA MUD ROOM
6 dicembre 2020
This Mudroom bench is approximately 6' wide by 1'-6" deep.