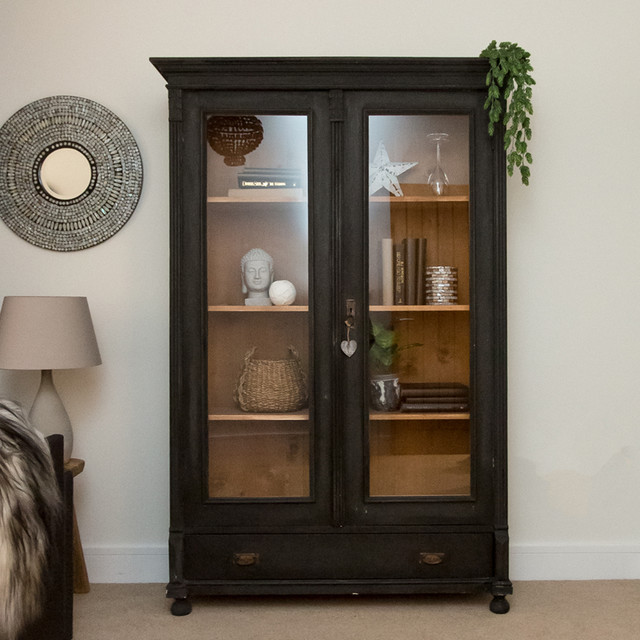 Treasures & Delights of Ineko Home
Photo by Debi Avery

VINTAGE CABINET, BLACK STORAGE UNIT

This beautiful, Vintage Cabinet, Black Storage Unit has been discovered, & restored by us at Ineko Home.

The unique wood free standing cabinet is made from pine. It Has double, full length glass doors and a base draw which runs the whole width of the cabinet. The drawers have 2 droplet pretty metal puller handles. The Vintage Cabinet has 3 wooden shelves inside. It has been sanded back and re painted in graphite black and treated with black wax to give this wonderful new vintage look. We've kept the inside of the cabinet natural as it was.

This superb piece of history originated from Hungary and would look great in a hallway or kitchen. Each glass door has a twist handle and lock with a it's own key. Both doors are easy to open and close. This wonderful black cupboard would be ideal to be use as a stylish display piece in any room in the house. From storing towels and linen to white cups. Maybe White plates in the kitchen to books. What about those collectable treasures. Use in your home office or just have it looking perfect in your stylish living room. Just like we have it here.

This great Black Display Cabinet is a truly unique piece of furniture & shows a level of natural ageing indicative of the life it once lived. This may include some dumps & scratches, all adding to the character & charm of the storage display Cabinet.

Details of your Vintage Cabinet, Black Storage Unit
If you would like more information or more photos of the Restored Vintage Cabinet, Black Storage Unit before purchasing we would be delighted to help. We have 3 in stock ready to restore.

Height is 192 cm x total width is 127 cm ( 137cm at the top plinth ) & depth is 40 cms, ( 48 at the top plinth ).

This special delivery will be arranged by us free of charge.


Foto di un soggiorno country — 
Houzz
Argomenti correlati alla foto