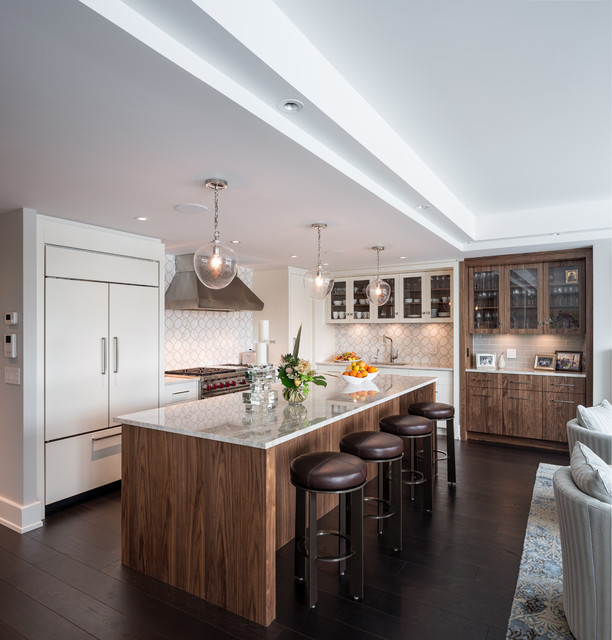 Soft Modern Kitchen | Astro Design Centre | Ottawa, Canada
Design & Supply: Astro Design Centre, Ottawa Canada
Photo: JVL Photography

We opted for using luxurious materials to add the warmth and glamour synonymous with a more traditional interior. Walnut, marble, brushed nickel and glass were all used to offset simple ivory lacquer cabinetry in the open concept living room. A massive slab of Taj Mahal Quartzite dictated the size of the kitchen island which we kept free of major utilities so that the room would bleed seamlessly into the adjacent living room. The base of the island is natural American walnut. The perimeter of the kitchen houses an industrial range and massive steel hood; which is juxtaposed on a backsplash of mosaic tile. The mosaic is delicate lattice work pattern gently nodding towards the traditional. To add additional depth and dimension to the space we made all the upper cabinetry open glass. The interiors of the glass cabinetry are in the same natural walnut as the island. This unexpected detail is the perfect backdrop to white dishes and crystal stemware.

Ultimately the room is elegant and serene.

Ispirazione per una cucina contemporanea di medie dimensioni con lavello sottopiano, ante lisce, ante bianche, top in quarzo composito, elettrodomestici in acciaio inossidabile, parquet scuro, isola, paraspruzzi multicolore, paraspruzzi con piastrelle a mosaico e pavimento marrone — 
Houzz
Argomenti correlati alla foto