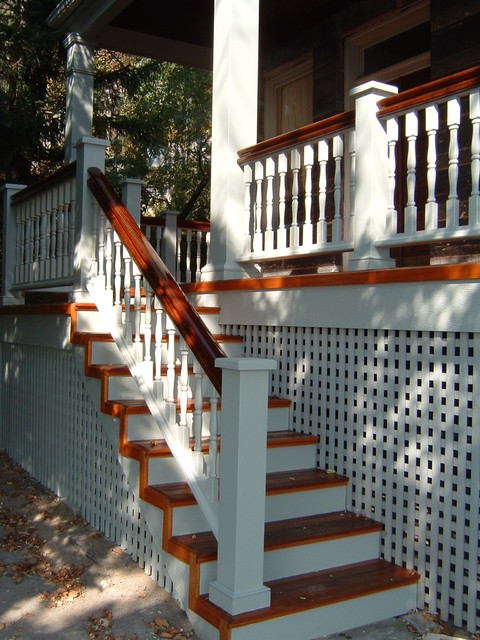 Porch Addition
About:

Abandoned two years ago by a previous contractor, and overwhelmed by the challenges associated with building an updated porch respectful to this Queen Anne style home, J. Francis Company, LLC was referred to the customer by Maynes & Associates, Architects. Perched at the highest point on the North Side with a panoramic view is where Deb Mortillaro and Mike Gonze make their residence. Owners of the famous Dreadnought Wines and Palate Partners in the Strip District of Pittsburgh, Deb & Mike wanted a porch to use for entertaining & wine tasting parties. Design features include reuse of original porch footers, mahogany tongue & groove flooring, a railing system that compliments the original design yet complies with the code and features a clear coated Cyprus top rail. The original porch columns were most likely stone bases with wood posts that have been replaced with columns to enhance the updated look. The curved corner has been reproduced including a custom-built curved handrail. The whole porch comes together, tying in the red mahogany floor, Cyprus handrail, and stained bead board ceiling. The finished result is a breathtakingly beautiful wrap-around porch with ample room for guests and entertaining.



Testimonial:

"Our beloved porch had been taken down to be rebuilt for two years before we met the great folks at J. Francis Company. We knew this porch had great potential and all it would take was the right people to make it happen - ones with vision and great craftsmanship. In conjunction with our architect, Greg Maynes, Dave Myers of J. Francis Company guided this project along with tremendous skill and patience. His creative suggestions and practical thought made the process painless and exciting. The head carpenter JK was a marvel and added touches that made a spectacular difference.
We use our home and especially this porch to entertain both clients and friends throughout the year. They all have been anxiously waiting to hear that it is done. A pleasant surprise will be theirs when they arrive."
Idee per un grande portico vittoriano dietro casa con pedane — 
Houzz
Argomenti correlati alla foto