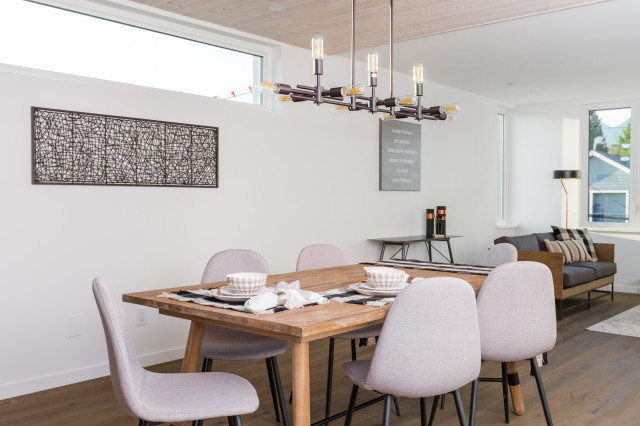 One Raven Net Zero
One Raven is a truely unique project that pushes the boundaries of urban density without losing heritage roots. Located in the heart of North Vancouver's up and coming moodyville neighbourhood, One Raven will be a beacon on E 3rd. With one of the last remaining heritage buildings on the front of the lot, the project consists of a NetZero high-performance infill duplex, each complete with its suite. This will add 4 new livable units in an infill laneway format with the heritage home complementing the site. The project is built to Level 5 of the BC Energy Step Code meaning it is already at the energy targets for all buildings in 2032, 13 years early! This spectacular and unique project was designed by the talented architect Tina Hubert at Design Studio 8.

The passive house inspired townhouses and suites will be accessed via an internal courtyard bi-secting the lot in an east-west orientation parallel to the street. A circulation corridor oriented north-south will be accessed from the sidewalk at the existing stone retaining wall and concrete stair.

The site design creates private open spaces yet also fosters connection to the semi-private realm of the inner courtyard. Each townhouse will have access to ground level patios, gardens, balconies and roof decks.

The exterior walls are "super" insulated walls that are 12" or more thick with a focus on air-tight detailing. High performance triple pane windows are oriented southward to maximize solar gain in winter and rely on shading devices in the summer. All other windows are located to promote natural ventilation and to reduce energy losses. The highly air-tight building (0.93 ACH) utilizes heat recovery ventilation system to exhaust air and bring in fresh air. The building is designed to be compact with a reduced surface area.

Maximizing on-site infiltration and rainwater collection will help manage storm water runoff. Ground-oriented landscape lighting and low planting along pathways and lot lines encourage visibility and overlook.

The architecture of the building is uniquely modern and clearly establishes it's identity, through horizontal and vertical rectilinear forms, asymmetrical window placement, slim profile detailing, standing seam metal cladding, heritage coloured siding, and architectural panelized guardrails.
Ispirazione per una sala da pranzo scandinava — 
Houzz