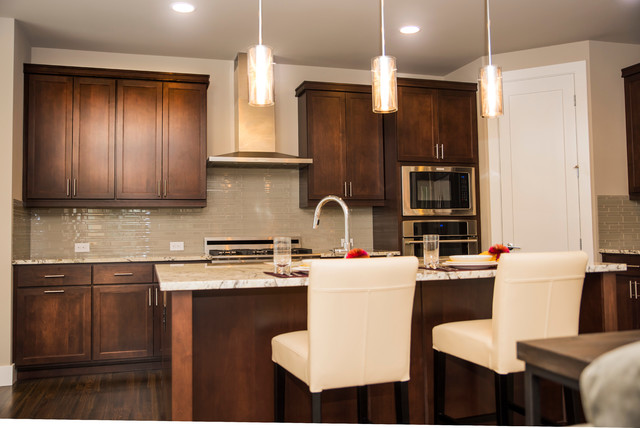 New Construction/Whole House Design
Accessories And Styling By Tatiana Hisel Interior Design
Lesia Wilcox Photography

This newly built home in Sammamish needed distinctive design touches to reflect my clients' personal style. This project was two-fold: first, I was hired to assist them in all the finish selection process with the builder, to ensure we would have a cogent and harmonious palate to work with. I was able to negotiate some minor structural and architectural changes with the builder - minor to the builder but these changes made a big difference in how the house would later function. The second phase of this project was specifying and sourcing all of the custom furnishings, window treatments and rugs. And, finally, we wrapped this project up with the accessories on the "final reveal" day.
Idee per una cucina classica di medie dimensioni con ante in stile shaker, ante in legno bruno, isola, paraspruzzi grigio, paraspruzzi con piastrelle di vetro, elettrodomestici in acciaio inossidabile, parquet scuro, lavello sottopiano, top in quarzite, pavimento marrone e top multicolore — 
Houzz
Argomenti correlati alla foto
I commenti degli utenti: