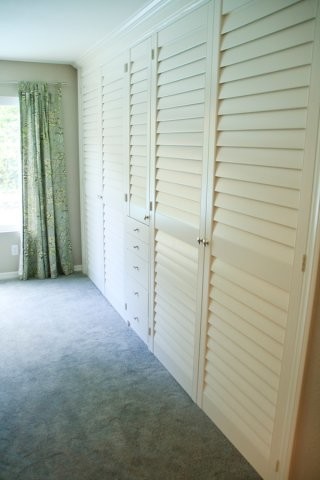 More Custom Closet Doors
Call us to discuss options for your brand new solid wood closet doors! Did you know that closet doors with louvers provide room for your clothes to breathe? They also provide warmth and character to your room.

French Brothers Customer Shutters has been in business for over 35 years. It's important to note that we manufacture all our products here in the United States. There are many other wood shutter and closet contractors in San Diego and the rest of the country who buy and install parts from China. With us you receive quality products that are built to last a lifetime. What is better, is that most of our employees have been working for us for over 20 years - something unheard of in our industry. So you are receiving quality craftsmanship from our mill as well as professionalism and reliability when our employees come to your home and install. In short, we love what we do and we look forward to serving your needs. When you set up an appointment, you will get first class service as Owner Marty French will come to your home and work with you one on one. No one knows the business, or style and design options better than him. Talk to you soon!
Esempio di armadi e cabine armadio chic — 
Houzz
Argomenti correlati alla foto
I commenti degli utenti:

nancythebesr lo ha aggiunto a Living Room Ideas
13 ottobre 2013
i like the idea of louvered doors for the cupboard doors when you come in the apartment on the right. and again when you are heading into the bedrooms.
jcobean lo ha aggiunto a Closet Ideas
11 luglio 2013
Full length louvers. Uncertain about the width...actually looking for three bypass doors.