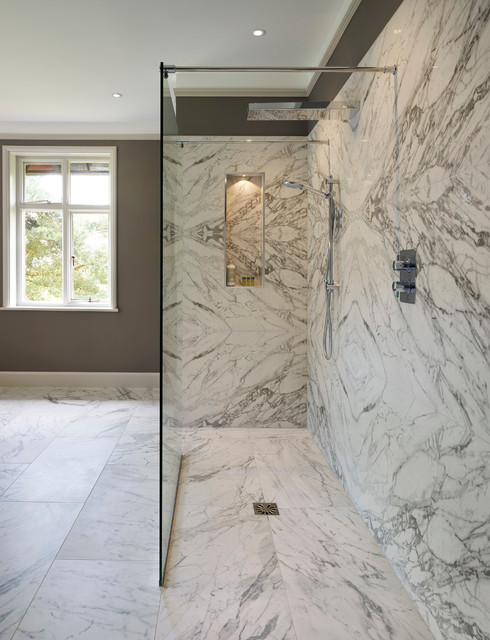 Luxury Ensuite Bathroom
This luxury en-suite bathroom project was a complete conversion and transformation of an existing spare bedroom into a luxurious bathroom space in Soulbury, Buckinghamshire.

The idea was to create an open plan, free flowing space including walk-through shower, free standing bath and twin sinks.

The bathroom also had to be in keeping with the existing bedroom which was recently decorated and with the overall theme of the house which is decorated primarily in shades of grey with rich timber elements.

The client also loved the look of the bookmatched marble shower enclosure in our Bierton show room but was concerned with the up keep of the stone. We were able to achieve everything the customer was looking for by using our own bespoke cabinetry combined with innovative porcelain marble effect tiles which could be bookmatched on the back wall.

The floor tiles are also in the same pattern but are anti-slip which allows the floor to run seamlessly into the shower area. The free standing bath, originally white, was hand-painted by our expert painter to mimic copper and pick up the colours of the walnut bath wall which also incorporates a thermostatic control and shower outlet for the bath.

The overall result is a dramatic, light, and open space. Perfect for spending hours relaxing in the bath or a refreshing shower under the waterfall shower head.
Immagine di una stanza da bagno padronale classica — 
Houzz
Argomenti correlati alla foto