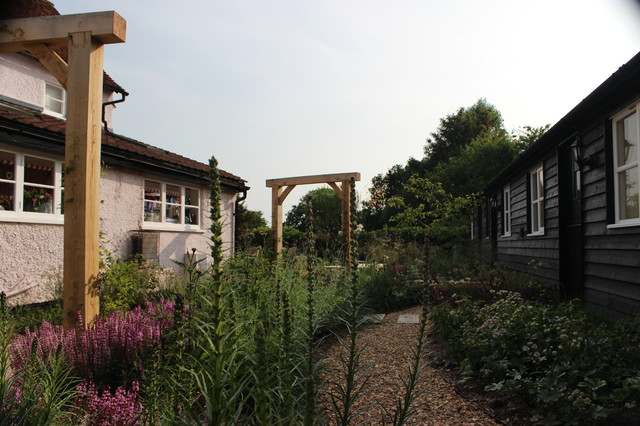 Little Eden
his rural hertfordshire property plays host to a Grade II listed house and a separate period outbuilding which have both had various architectural additions over the century, resulting in the creation of a narrow, empty corridor; prompting the need for an external garden design. The challenge for Aralia in this herts garden design was to unify the two opposing buildings and overcome the difficulties posed by numerous access points, all in the space of a small courtyard of less than two hundred square meters.

The clients request was to create a garden which blurred the strong geometry of the buildings through a curvilinear design, whilst incorporating multiple opportunities for seating to relax and unwind. The garden very much holds a traditional feel through the choice of materials and planting in order to be sympathetic towards the architecture, surrounding landscape and local aesthetic.

Upon first entering the property, visitors are greeted by a pair of beautifully crafted Iroko gates, framed by two heritage brick planters which house a lush beech hedge, concealing elements of the journey ahead.

Three sizes of autumnal riven sandstone are used to negotiate the curves and create a subtle flow and legibility to the journey, whilst naturalistic perennials and grasses soften the space and create narrative. Plants such as Astrantia, Perovskia, Deschampsia and Echinacea are used throughout the borders to create rhythm and repetition whilst green Oak arches frame snippets of these views, anchoring the path between the buildings as the garden progresses.

The culmination of the garden is signified by a circular terrace which is controlled and held in place by the beautifully weathered curved oak seats, housing cut logs underneath to create pattern and shape. Two small water chutes bubble away in the background creating a relaxing atmosphere whilst the user can sit and take advantage of tranquil views across the rest of the garden.
Esempio di un giardino formale shabby-chic style di medie dimensioni e dietro casa con un ingresso o sentiero e pavimentazioni in pietra naturale — 
Houzz