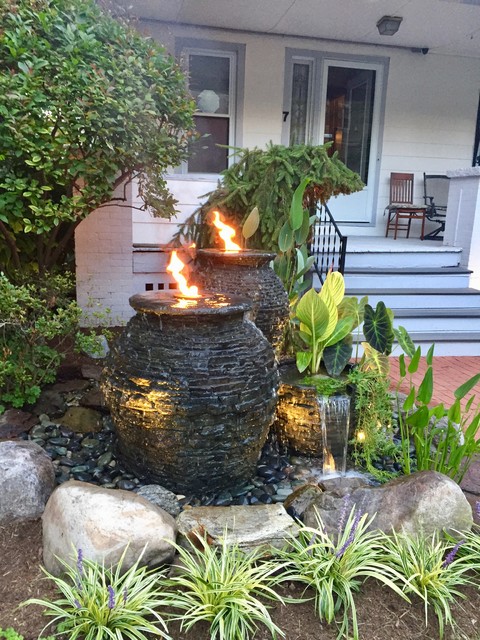 Landscape Water Feature Design & Installation Rochester NY Acorn Ponds
Landscape Water Feature Design & Installation Rochester NY Acorn Ponds & Waterfalls

Acorn Ponds & Waterfalls brought this Rochester (NY) front yard landscape to life with the installation of this stunning custom designed water feature which consists of bubbling urns, waterfalls, led lighting and beautiful aquatic plants. The sound of water running softly through this lovely water feature provides a relaxing sound that inspires relaxation which makes you want to sit down, relax, and enjoy all the simple pleasures life has to offer. Not only are water features lovely, they will make any space look more aesthetically pleasing and are the next best thing to living on a lovely lake or a sparking fish pond.

This water feature has bubbling urns which can be installed with multiple sizes in groupings or we can design & install your water feature to have only one gorgeous stand alone urn. We love installing these beautiful urns in pondless waterfalls as well as in streams and fish ponds while adding LED lighting to them. Another cool feature is the addition of FIRE to the top of our fountains which really enhances the whole garden and makes the house stand out from the rest.
The owners can sip their morning coffee on the porch and see a myriad of lovely birds and other pretty wildlife stop by for a quick sip of water. It's a simple pleasure, but it brings a smile to the lives of our Western NY clients in Rochester & Buffalo New York (NY) and we love what we do.

Our unique water features are also easy to maintain! Homeowners worry their new custom water feature requires ample work to maintain, but they do not. Acorn Ponds & Waterfalls design experts are happy to discuss seasonal care of water features with our clients to ensure they're being cared for properly, no matter the season.

Acorn Ponds & Waterfalls can help you design and install a beautiful water feature to add that peace and tranquility to your outdoor spaces. For large or small projects, there are always solutions to adding a water feature in your garden weather you are thinking about installing a pondless waterfall, one of a kind fish pond, custom water feature or large recreational pond. Acorn works with you from beginning to end so you can have a worry free addition to your backyard.

Ispirazione per un piccolo giardino formale tradizionale esposto a mezz'ombra davanti casa in estate con un focolare e pavimentazioni in mattoni — 
Houzz
Argomenti correlati alla foto