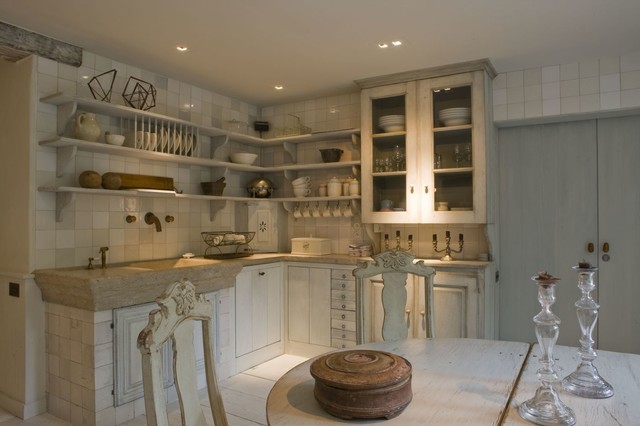 Kitchens Projects
Source : Ancient Surfaces
Product : Antique Stone Kitchen Sink & Stone Flooring.
Phone#: (212) 461-0245
Email: Sales@ancientsurfaces.com
Website: www.AncientSurfaces.com

For the past few years the trend in kitchen decor has been to completely remodel your entire kitchen in stainless steel. Stainless steel counter-tops and appliances, back-splashes even stainless steel cookware and utensils.

Some kitchens are so loaded with stainless that you feel like you're walking into one of those big walk-in coolers like you see in a restaurant or a sterile operating room. They're cold and so... uninviting. Who wants to spend time in a room that reminds you of the frozen isle of a supermarket?

One of the basic concepts of interior design focuses on using natural elements in your home. Things like woods and green plants and soft fabrics make your home feel more warm and welcoming.

In most homes the kitchen is where everyone congregates whether it's for family mealtimes or entertaining. Get rid of that stainless steel and add some warmth to your kitchen with one of our antique stone kitchen hoods that were at first especially deep antique fireplaces retrofitted to accommodate a fully functional metal vent inside of them.
Immagine di una cucina classica di medie dimensioni con lavello a doppia vasca, ante con finitura invecchiata, paraspruzzi bianco, ante di vetro, top in pietra calcarea, paraspruzzi in gres porcellanato, elettrodomestici bianchi, pavimento in pietra calcarea e isola — 
Houzz
Argomenti correlati alla foto
I commenti degli utenti:
dkelkins4893 lo ha aggiunto a kitchen
16 settembre 2020
OK so I like the neutral palette but with different textures, including the ceiling beam on the left

Penalva Architekten lo ha aggiunto a Mon château
3 settembre 2018
Really good finishes, love the countertop. But that hideous backsplash would be better in a natural limestone finish.