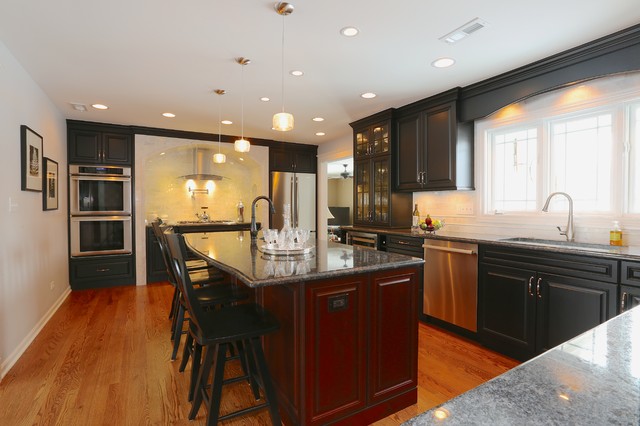 Kitchen Remodeling Palos Heights
The home began life as an unassuming ranch on a large lot in Palos Heights, a southern suburb of Chicago. And then, several years ago, this quiet little home was purchased for the large property that it sat on by two people that love to garden and envisioned a dream.

Along with the yard, the quiet home was also in for a complete new life with it's new people. Lifestyles today require homes to function differently than 50 years ago so the clients went about building-in new and repurposing original space. When all the dust settled from the large construction revisions the clients looked at their existing kitchen and decided it was now time to move this room to another level.

LaMantia kitchen designer, James Campbell, CKD, saw many opportunities to open the flow and enlarge the existing kitchen footprint. But, mostly, the drawings Campbell presented to the clients, played mainly into marrying the glorious outdoor space into the interior of the home. The original furnace room, sitting just behind the kitchen and abandoned during a previous construction, offered the possibility of additional kitchen square footage. Enlarging both the Family and Living Room entries into the kitchen played a significant part of the open flow Campbell was looking to achieve;widening these opening allowed clear views of both the front and back outside expanses of the home.
Foto di una grande cucina ad U tradizionale con lavello da incasso, ante di vetro, ante nere, paraspruzzi beige, elettrodomestici in acciaio inossidabile, pavimento in legno massello medio e isola — 
Houzz
Argomenti correlati alla foto