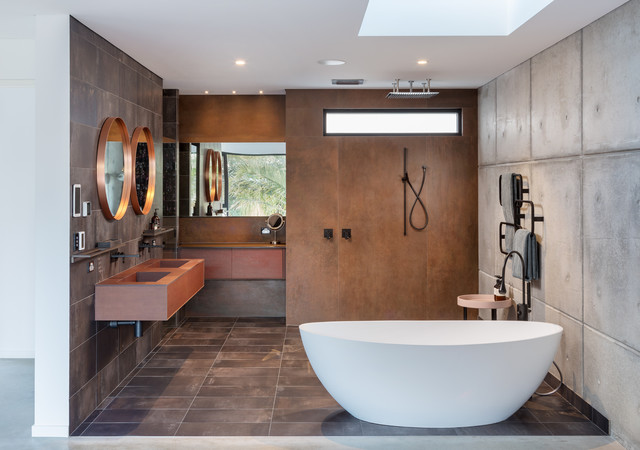 Kitchen and Bathroom // Arrital Paperstone // Watermans Bay
Silvertone Photography
This was a new build home, with Dorrington Homes as the builder and Retreat Design providing the kitchen and wet areas design and cabinetry. As an established importer of bespoke cabinetry, we have worked with many Perth builders over the years and are committed to working with both the client and the builder to make sure everyone's needs at met, including notoriously tight construction schedules.



The kitchen features dark tones of Paperstone on the benchtop and cabinetry door fronts, with copper highlights. The result is a warm and inviting space that is completely unique. The ensuite is a design feet with a feature wall clad with poured concrete to set the scene for a space that is unlike any others we have created over the years. Couple that with a solid surface bath, on trend black tapware and Paperstone cabinetry and the result is an exquisite ensuite for the owners to enjoy.
Immagine di una grande stanza da bagno padronale industriale con ante lisce, ante marroni, vasca freestanding, doccia aperta, piastrelle multicolore, pareti multicolore, pavimento con piastrelle in ceramica, pavimento marrone, lavabo sospeso e doccia aperta — 
Houzz
Argomenti correlati alla foto
I commenti degli utenti:

Tatiana L lo ha aggiunto a Trends
3 ottobre 2020
Are These Sustainable Bathroom Countertop Materials for You? https://www.houzz.com/magazine/are-these-sustainable-bathroom-countertop-materials-for-you-stsetivw-vs~132699512 These five surfacing materials are manufactured with sustainability and health in mind If you're planning to replace your bathroom countertops, you might want to consider sustainable options that also offer performance and style. These five bathroom countertop materials have distinctive designs and make less of an impact on the environment than other options. 2. PaperStone Solid Surface How it's made. PaperStone contains from 50% to 100% recycled paper, plus non-petroleum-based resin and natural pigments. Resin-saturated sheets of recycled paper are stacked and placed in a press, where heat and pressure fuse them together into panels. The quantity of sheets pressed determines the panel thickness. PaperStone is certified by the Forest Stewardship Council. Durability. Because PaperStone is made of multiple thin layers of paper bonded together with resin under high pressure, the strength of this compact bond makes PaperStone less brittle than stone or engineered quartz. It is stain- and heat-resistant and nonporous. Scratches and dings can be sanded and refinished. PaperStone will not melt, liquify or explode, and most products are good choices for applications requiring high fire resistance.