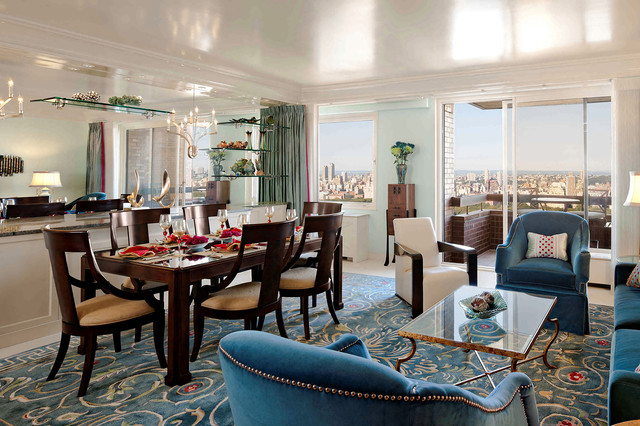 Elegant Open Concept city living
This project was a complete renovation. It was the first project a newlywed couple did together. In one of the first meetings we all agreed we loved the Osborne and Little striped polka dot fabric (pillow on the chairs and sofa). The room grew from there. A main objective was to enhance the view of Central Park all the way to the Palisades. We kept the walls light and the upholstery monochromatic, except for a dash of off white in the Hugues Chevalier (Ying Armchair). The area rug is large and almost square we had it made by Royce wool carpets. Joanne and Bill Riley custom designed it. The background was kept the blue of the upholstery further grounding the space yet keeping it quiet enough with only red and gold accents (there are actually 9 colors in the rug, but they are the same hues as the 3 main colors) The wood of the dining area adds a solid feel. (Table and chairs by Stanley furniture) Along the long wall is a 20' built-in with a Costa Smerelda granite counter top, as. storage space is at a premium in NYC. There is enough room for a small bar area on the left, dining area storage in the middle and to the far right. Also, in the middle is a 50" TV that comes up out of the granite and audio equipment. Above the built-in are wall to wall mirrors with glass shelves hanging from them. This keeps an open and spacious feel. The accessories keep it welcoming. The wall sconces (also on the mirrors) are by Currey and Co. The large crown molding and the high gloss ceiling add to the subtle drama. The small custom wood cabinet is made of Claro Walnut with ebonized Ash legs and handles by Hubel Handcrafted. It sits between the window and the door keeping you centered in the space. All in all an easy space to enjoy!
Immagine di una sala da pranzo chic con pareti blu e moquette — 
Houzz
Argomenti correlati alla foto
I commenti degli utenti:
Haley Sciko lo ha aggiunto a SPACE
11 gennaio 2021
large-small- small groups of furniture

Emma Bilak lo ha aggiunto a space
8 gennaio 2021
large space to feel smaller. through small groups of furniture, area rug, and dark colors.