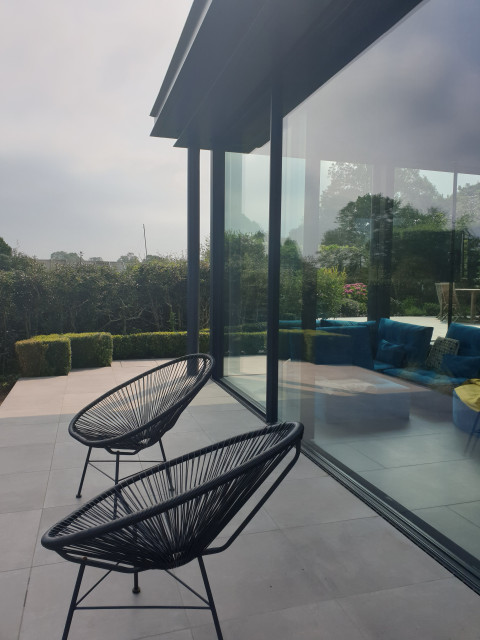 Contemporary Glazed Addition to Grade II Listed Property
The private garden surrounds the house on all sides and is of a good size in its entirety with different areas on each aspect.
The clients wanted the new extension for the kitchen, dining and living space to address all aspects of the garden to be able to enjoy it day and night.
The build has recently completed to create the split-level glazed extension. It is simple in style but has a distinct modern contemporary appearance that clearly defines the historic appearance existing of the existing house, enhancing the whole. They chose a combination of simple materials using floor to ceiling glazing with minimum steel to complement the original house.
The extension is offset from the adjoining profile of the house, to the main elevation, ensuring it is sympathetic in scale and subservient to the form of the existing creating a seamless transition from old to new.
We suggested that a flat roof would provide an overhang for functionality, protecting the spaces from overheating during the summer months, whilst maintaining bright interior spaces by means of the glass walls. We also advised that decorating the ceiling with a dark colour would prevent too much glare during the daytime from the full-length glazing on all aspects. The design features have proven to be effective following the recent warm and sunny we have recently experienced. The new space has stayed shaded, cool, and not too bright. The dark ceiling really works during the day and it makes the area perfect for star gazing without reflection when the interior lights are on of an evening.
Our clients are thrilled with the works (which are nearly complete). The design has created a high-quality home that is sleek, spacious, flexible, and light. The clean lines of the extension respect the existing house and it sits comfortably within its surroundings. They now have an open plan space that unites the family whilst seamlessly connecting our home with the garden.

Esempio di un piccolo portico contemporaneo dietro casa con pavimentazioni in pietra naturale e un tetto a sbalzo — 
Houzz
Argomenti correlati alla foto