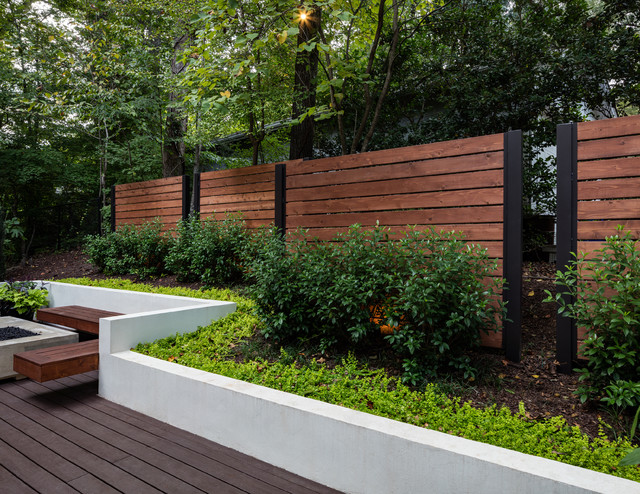 Contemporary Backyard Retreat
Light brown custom cedar screen walls provide privacy along the landscaped terrace and compliment the warm hues of the decking and provide the perfect backdrop for the floating wooden bench.
Esempio di una grande terrazza contemporanea dietro casa con un focolare, una pergola e parapetto in metallo — 
Houzz
Argomenti correlati alla foto
I commenti degli utenti:
nancyemorin lo ha aggiunto a nancyemorin's ideas
24 ottobre 2022
In between the retaining walls and the property line, Rogers placed a series of privacy screens in lieu of a fence. "The other house is very close, but we didn't want a huge wall of fencing that would overwhelm the deck and make it feel claustrophobic," he says. Instead, he designed 9-foot-wide individual panels with gaps between them. "It still feels private, but these have a stand-alone sculptural feel," he says. Rogers repeated the aluminum and cedar used on the pergola for a cohesive look. The aluminum frames have channels in the center that he slid the cedar slats into; he separated the horizontal slats with spacers to add to the open feeling. The larger shrubs seen here are 'August Beauty' gardenias (Gardenia jasminoides 'August Beauty', USDA zones 7 to 10; find your zone). "These are robust and will grow into a nice monochromatic evergreen hedge," Rogers says. They also will provide a lovely fragrance when they flower in late summer or early fall. For contrast, he planted creeping Jenny (Lysimachia nummularia, zones 3 to 9) as a brighter green ground cover. "The homeowners can decide if they want this to engage the retaining walls by letting it spill over, or keep it cleanly contained behind them," he says.