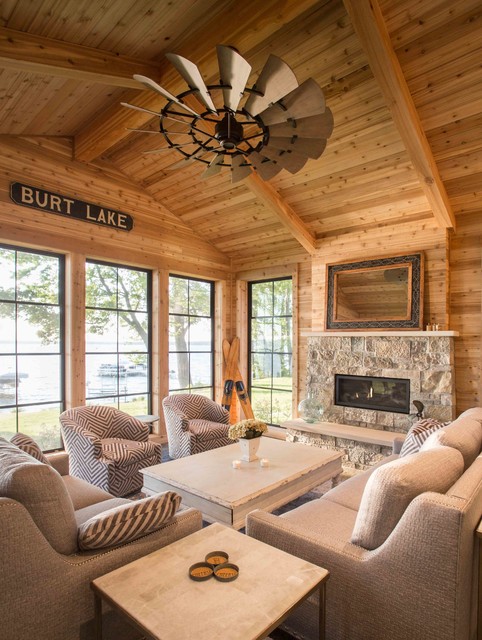 Burt Lake Timber Design
Our clients already had the beautiful lot on Burt Lake, all they needed was the home. We were hired to create an inviting home that had a "craftsman" style of the exterior and a "cottage" style for the interior. They desired to capture a casual, warm, and inviting feeling. The home was to have as much natural light and to take advantage of the amazing lake views. The open concept plan was desired to facilitate lots of family and visitors. The finished design and home is exactly what they hoped for. To quote the owner "Thanks to the expertise and creativity of the design team at Edgewater, we were able to get exactly what we wanted."

-Jacqueline Southby Photography
Immagine di una veranda stile marinaro con cornice del camino in pietra, camino lineare Ribbon e soffitto classico — 
Houzz
Argomenti correlati alla foto
I commenti degli utenti:

Mary Clark lo ha aggiunto a SUNROOMS
25 dicembre 2020
Located on Burt Lake in Michigan, this sun porch by Edgewater Design Group contains features we'd expect to see in a lake cabin — knotty wood, a stone fireplace, even wooden water skis. But lovely upholstery and modern windows elevate the typical rustic cabin look. The neutral color palette of the furniture maintains the relaxed feel and puts the focus on the blue of the water and the green trees outside. Style note: The ceiling fan recalls a steamboat's paddle wheel.