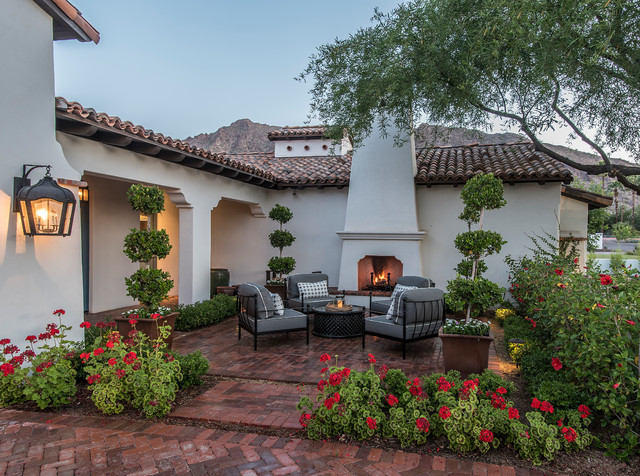 Arcadia Spanish Colonial | Courtyard
The landscape of this home honors the formality of Spanish Colonial / Santa Barbara Style early homes in the Arcadia neighborhood of Phoenix. By re-grading the lot and allowing for terraced opportunities, we featured a variety of hardscape stone, brick, and decorative tiles that reinforce the eclectic Spanish Colonial feel. Cantera and La Negra volcanic stone, brick, natural field stone, and handcrafted Spanish decorative tiles are used to establish interest throughout the property.
A front courtyard patio includes a hand painted tile fountain and sitting area near the outdoor fire place. This patio features formal Boxwood hedges, Hibiscus, and a rose garden set in pea gravel.
The living room of the home opens to an outdoor living area which is raised three feet above the pool. This allowed for opportunity to feature handcrafted Spanish tiles and raised planters. The side courtyard, with stepping stones and Dichondra grass, surrounds a focal Crape Myrtle tree.
One focal point of the back patio is a 24-foot hand-hammered wrought iron trellis, anchored with a stone wall water feature. We added a pizza oven and barbecue, bistro lights, and hanging flower baskets to complete the intimate outdoor dining space.
Project Details:
Landscape Architect: Greey|Pickett
Architect: Higgins Architects
Landscape Contractor: Premier Environments
Photography: Scott Sandler

Foto di un ampio patio o portico mediterraneo in cortile con pavimentazioni in mattoni, nessuna copertura e un caminetto — 
Houzz
Argomenti correlati alla foto
I commenti degli utenti:

Patricia Bell lo ha aggiunto a Acacia Avenue Courtyard Project
6 maggio 2021
I like the feel of the seating group, if we were to add a landing outside of the French doors that we convert from the dining area. Not sure how much we would sit outside in the courtyard, but it could come in handy if we needed extra seating for a small dinner party. My gigantic table currently seats eight people.
vertonium lo ha aggiunto a Back Patio
11 aprile 2021
not just a big patio; broken up by greenery and borders within the brick design