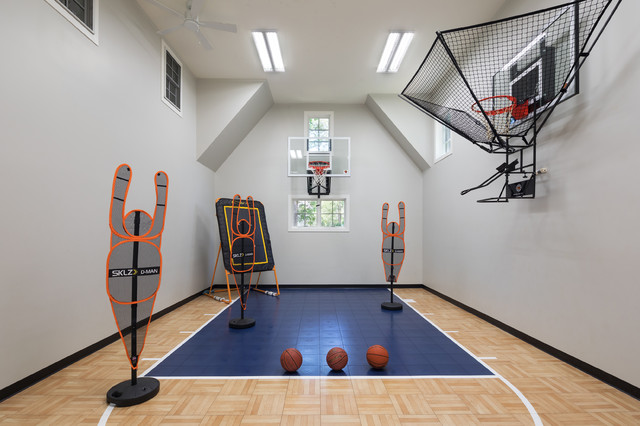 2017 ARDA - Renovations - Royal Oaks Design (1)
In this remodel, the client wanted more space for recreation and entertaining as well as a peaceful retreat in their existing home. A detached two-car garage provided the ideal medium for this purpose, in which the biggest challenge was minimizing the visual impact of the transformation. A gable-ended addition to the garage and a half-story above allowed for a sport court and a large entertaining space, without appearing too massive from the street. A bridge creates an interior connection between the home and the garage's upper level.

An ARDA for Renovation Design goes to
Royal Oaks Design
Designer: Kieran Liebl
From: Oakdale, Minnesota
Idee per un campo sportivo coperto classico con pareti grigie e pavimento multicolore — 
Houzz
Argomenti correlati alla foto
I commenti degli utenti:

Jesse Gonzales lo ha aggiunto a Journal 3
29 marzo 2018
I like this because it is something to do other than just sitting around the house. I love being active and this is the perfect thing to do. I love shooting hoops and messing around so this would be perfect. Plus I think it looks cool.